Scott Osbourne has tried every mower under the sun, but the brand that he swears by is SCAG.
Former mowing contractor and now dealer Scott, recommends SCAG to anyone who walks through his doors.
Buying a SCAG mower for the first time
Scott bought a Jim's Mowing franchise back in 2000 and after using many different mowers he said he "finally bit the bullet and bought two SCAG mowers – a 36" and 52" V-Ride".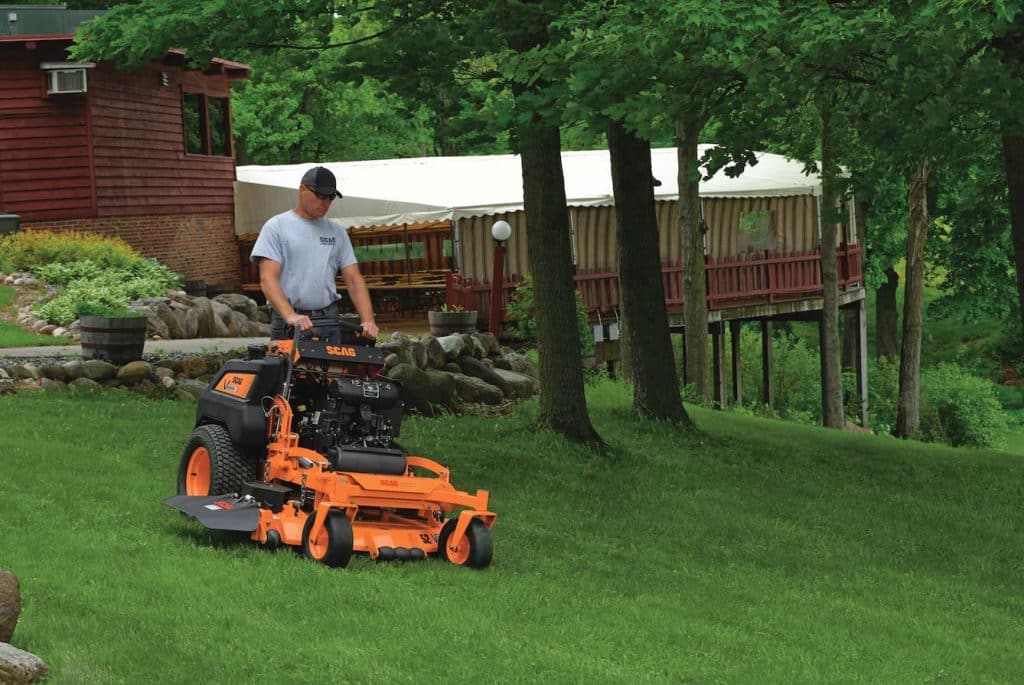 "We were mowing four more lawns a day because the SCAG mowers were so much faster, so we were making an extra $200 a day turnover."
Before Scott bought his two SCAG mowers, he was spending between $3,500-5,000 a year on repairs.
He also found it was quite difficult to buy parts for other branded mowers when they broke down, so he spoke to other landscaping professionals through the website LawnSite because he wanted to upgrade to a better mower.
The response was unanimous – buy a SCAG.
Scott said he's never looked back since. His SCAG mowers were reliable, fast and more importantly – they never broke down.
Importing SCAG mowers to Australia
He approached International Mowers one day and convinced them to start importing SCAG stand-on (V-Ride) mowers to complement their current SCAG ranges from the United States.
They sold 26 in the first year.
Eventually Scott moved from using SCAG mowers to selling them and has even visited the factory in the US where SCAG mowers are made.
He said what sets SCAG apart from other mowing machinery companies is that they only use top-quality US steel and invest in their Research and Development.
"I spoke to the R&D guys. They hand make a mower and then they trash it and trash it until they get it right. They don't compromise on quality, so they don't use any Chinese steel – only US steel," said Scott.
Scott convinced SCAG to make a 42" mower in their Liberty range, which is for entry-level users.
He saw a gap in the market for them because it's the most popular deck size in Australia, as it's not too small or too big.
SCAG has been testing this new model out in the US for nearly a year and it won't be available in Australia until next year because they want to get it right.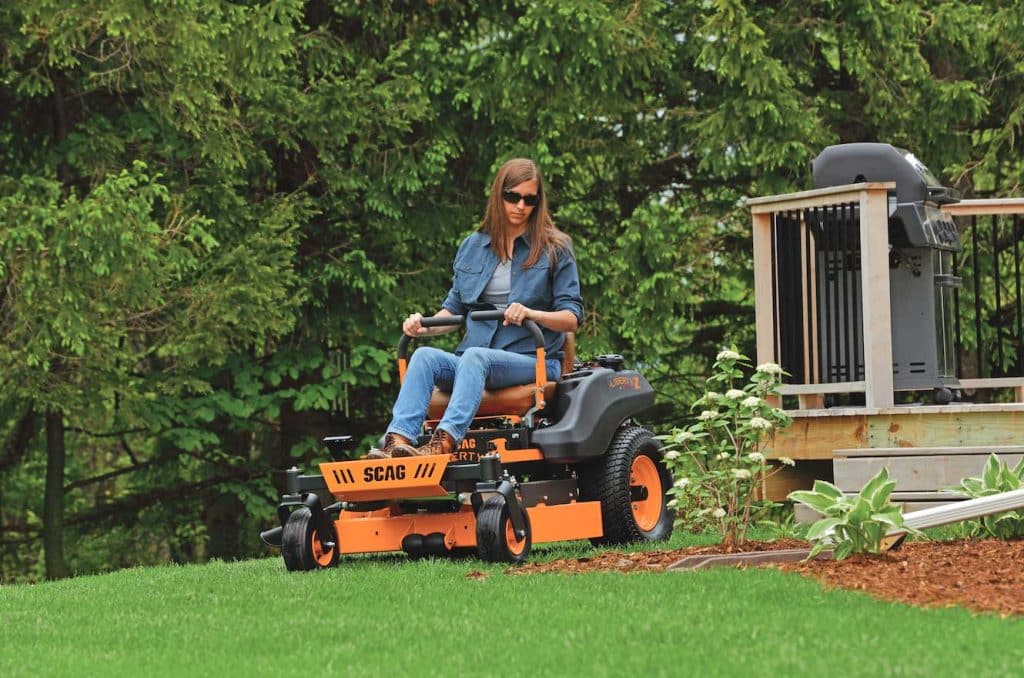 Selling SCAG mowers to contractors
Scott currently sells three different brands of mowers, and unsurprisingly sells more SCAGs than the other two.
He said that he's sold around 150 SCAG models and he's only ever had one person come back with a warranty claim.
"We sell more SCAGs than any other brand because we know the customer's going to be happy. When you look at the different mowers side-by-side, the SCAG mower is physically stronger," Scott said.
Scott said when contractors come into his shop, he gets them to hold the mower parts as the SCAG parts weigh twice as much as the parts from other brands.
"You'll never have to pay for replacing parts for a SCAG mower. It's a forever mower," Scott said.
Scott said he sold his original SCAG mowers to other mowing contractors and he said the mowers themselves are in good condition with the cutting deck still working well and no cracks in the steel. It was only the engine in one that had worn down.
He said those mowers have done about 3,000 hours of mowing, which is equivalent to 300,000 km on a car.
Back when Scott was a contractor, he was forking out thousands of dollars a year to mechanics to fix broken parts on his lawn mowers, but that dropped to almost zero dollars after buying a SCAG.
He said contractors can rest assured they'll be saving plenty of money with a SCAG mower.
At a conservative estimate, Scott reckons a contractor will save $7,000 just on the lifespan alone of the mower and that's not counting the cost of broken parts.
Other mowers will last between 5-10 years but a SCAG mower will last 20 years or more.
Scott also said the cost of other mowing brands are going up, which makes buying a SCAG only around 10% more expensive.
"Unless people treat their lawn mowers with silk gloves – which never happens with lawn mowers due to normal wear and tear while mowing – they'll never outlast a SCAG," Scott said.
SCAG mowers speak for themselves
Scott said he still owns a SCAG Cheetah, which is their fastest range of mowers.
He said sometimes he'll take it to people's properties so they can test it out and see the quality and speed of SCAG mowers.
"I've never not sold a SCAG after doing a demo."
As we like to say at SCAG, buying one of our mowers is the most expensive thing you'll buy but the cheapest thing you'll own.