Commercial landscapers trust the SCAG brand name to help them tackle large properties and estates quickly and efficiently, and you'll be able to rely on the same technology, the same engineering, and the same high quality construction components when you upgrade to the Freedom Z 52 inch mower.
Offering and oversized mowing deck to make easy work of large lawns and properties, while still offering the dual hydro transaxle zero turn capabilities you're expecting in a high-quality zero turn lawn mower, the Freedom Z 52 inch mower remains agile and relatively compact even at its size.
Another cool feature on this lawnmower is the ability to readjust your mower deck on-the-fly. Almost instant cutting deck leveling capabilities are made possible through the four point deck leveling system, making sure that each cut and each pass on your lawnmower is consistent, efficient, and perfectly clean.
You'll be amazed at the kind of terrain that you can maneuver on a 52 inch deck lawn mower like this, too. The suspension system has been engineered to provide an easy ride over rough and rocky lawns, and though this is one of the larger units the SCAG lawn mower company makes it doesn't feel heavy, sluggish, or difficult to pilot.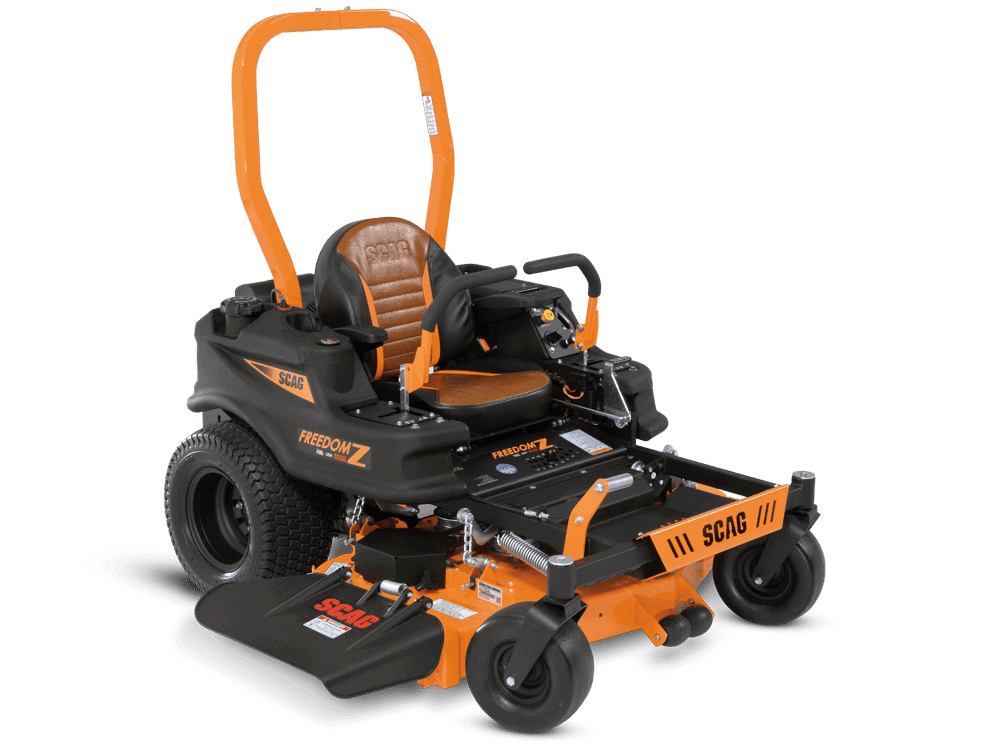 Up to 8 MPH forward and 5 MPH reverse speeds deliver maximum productivity. Fast ground speeds will make short work of your residential acreage or commercial property.
Fully welded and fabricated, unitized steel, commercial grade main frame design is stronger than "bolt together" or stamped frame designs. This frame is built to last.
48″ & 52″(cutting width) cutter decks are constructed with a 10-gauge top with an 11-gauge reinforcement plate around the spindle mounting area for extra support. The cutter deck skirt is 7-gauge for additional strength. This is not a mass produced, stamped steel deck. This is a commercial grade, fully fabricated and welded heavy steel cutter deck.
Power your Freedom with commercial grade, full pressure lubrication engines. 24 HP or 26 HP Kohler 7000 PRO Series V-Twin engine options.
Dual Hydro-Gear ZT-2800 transaxles put solid, reliable power to the ground. Integrated transaxle has charge pumps and spin-on oil filters and steel plate oil filter guards to protect filters from damage. 1-year commercial warranty on transaxles; 3-year non-commercial application warranty on transaxles.
Custom, bolstered seat adds another level of comfort to the 48″ & 52″ Scag Freedom Z. Fold-up arm rests are standard.
Ogura G1 PTO clutch brake has lots of torque (74 ft/lbs) for smooth blade engagements and solid holding power in heavy cutting conditions. Adjustable air gap delivers long component life.
Low-maintenance mower design has few grease points, saving you maintenance time and giving you the freedom to do other things.
Fixed-position ROPS (Roll Over Protection System) is standard equipment along with retractable seatbelts. ROPS provides additional operator safety.
Compact mower size enables you to take the Freedom Z into tight places. The Freedom Z also occupies less space in your garage or on the trailer, leaving more room for other tools and toys.
6.5 gallon fuel capacity gives you the freedom to cut vast amounts of grass without having to stop and refuel. The fuel tank features an extra large filler neck for easy refueling.
Large drive and caster tires ensure solid traction and a smooth ride.
-Front caster tires: 11 x 6 – 5
-Drive tires: 20 x 10 – 10
Extra large foot plate for improved operator comfort and easier mounting and dismounting of the mower. The pierced, extruded metal tread ensures solid footing.
Easily adjust cutting heights while seated via. Wide range of adjustment from 1″ to 4-1/2″ in 1/4″ increments.
Foot pedal deck lift features a large knurled peg for "no slip" deck lifting. Spring-assisted design makes lifting the cutter deck easy and smooth.
The Scag "Simply the Best" warranty stands behind you and your mower for years of worry-free service. Unlike other mowers in its price range, the Freedom Z carries a commercial warranty as well as an estate owner / home owner warranty.
Spring-loaded, self-adjusting idler arms effortlessly keep all belts in constant adjustment for maximum life and no maintenance.
All steel pulleys are stronger than plastic pulley designs. This is a Scag….you will not find plastic pulleys on the Freedom Z. Steel dust and debris covers are fitted over idler pulley bearings and spindles to keep foreign material out, extending bearing life.
Comfortable, adjustable (with tool), fully cushioned seat with padded arm rests. Retractable seat belts are standard equipment.
Padded steering control levers with ultra-smooth dampers for smooth, precise responsiveness. Levers are adjustable.
Steering dampers are designed and positioned for smooth steering lever operation and minimal control effort.
4-corner cutter deck adjustment mechanisms allow for easy deck leveling and pitch adjustment to deliver a smooth, even cut.
Heavy-duty, no maintenance blade drive spindles provide reliable performance day in and day out; aluminum housings and sealed ball bearings.
Interlocked parking brake system prevents movement when parked on inclines. The mower cannot be driven when the brake is applied. This prevents premature brake wear.
Operator friendly instrument panel is conveniently located just to the left of the operator. It includes an ignition switch, mower engagement switch, and separate choke and throttle controls.
User-friendly mower design allows quick access to the engine and filters, for easy maintenance.
Cup holder and storage bin are molded into the fuel tank to provide added operator convenience and comfort.
Hydraulic oil reservoir and maintenance-free battery are enclosed within the left side tank molding to prevent external damage and to provide a sleek, clean appearance.
Engine oil drain makes oil changes easy.
High-quality electrical components such as switches and tightly woven, custom wiring harness looms are used throughout the Scag mower line for dependability and long life.
Digital hour meter located within easy sight of the operator while in the operating position.
Productive, time saving accessories like a grass collection system and high-powered halogen lights are available for the Freedom Z.
| | |
| --- | --- |
| Engine Size | 26hp |
| Cutting Width | 52" |
| Drive System Type | Hydro-Gear ZT2800 Transaxle |
| Pumps | Internal Pump: 10 cc |
| Forward Ground Speed | 12.9 km/h |
| Drive Tyres | 20" x 10"-10" |
| Caster Tyres | 11" x 6"-5" |