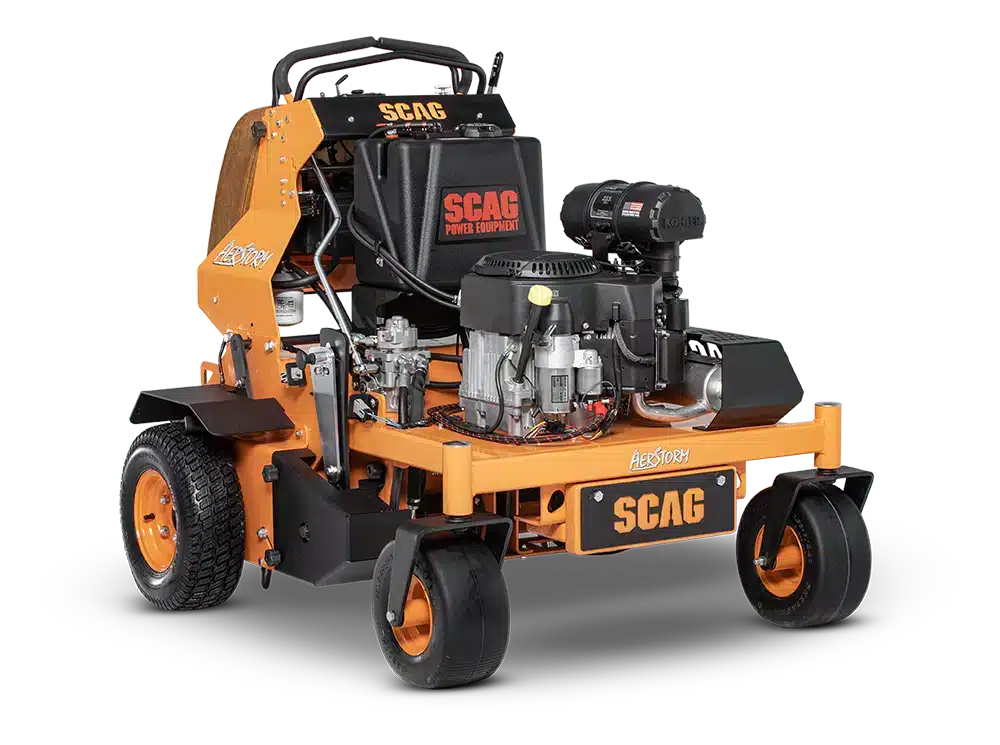 | Model | Description |
| --- | --- |
| AS30-23CV | Stand-On Aerator, 30″ Tine Width – Kohler® Command PRO® 23 HP |
| AS30-23CV-DS | Stand-On Aerator with Drop Seeder, 30″ Tine Width – Kohler® Command PRO® 23 HP |
Specification
AerStorm
ENGINE SPECIFICATION
General Type
Heavy-duty industrial/commercial
Brand
Kohler Command Pro
Model
CV732
Horsepower
23.5 HP @ 3600 RPM
Torque
40.3 ft-lbs. (peak)
Type
4 cycle gas, twin-cylinder, air-cooled, OHV, vertical shaft engine
Displacement
747 cc (45.6 cubic inch)
Cylinders
2 cast-iron sleeves
Governor
Mechanical type governor with variable speed control set at 3600 rpm (±100 rpm), idle set at 1800 rpm (±150 rpm)
Air Intake Group
Large capacity 2-stage canister air filter
Exhaust Group
Single. exhaust canister muffler
Fuel Pump Group
Integral fuel pump with inline fuel filter, internal fuel line vent; float feed; two barrel, adjustable idle, afterfire solenoid.
Oil Pump Group
Full pressure lube, with full-flow filter, 2 quart oil capacity
Starter/Electrical/Charging System
"12 volt ""maintenance-free"" sealed battery with alternator, solid state ignition with key
start. 15 amp charging system, regulated."
ENGINE DECK
Thickness
1/4″ steel
Fuel Tank
5.5 gallon (20.8 liters) tank with molded-in cup holder
Drive Wheels/Tires
18 x 6.5 – 8 four-ply pneumatic tubeless, radius edge
Brakes
Lever actuated linkage to brakes on both drive wheels
Operator Platform
Heavy gauge steel with extruded star pattern for no-slip footing. Dual adjustable suspension for operator comfort level preference.
Operator Comfort Pad
Large heavily-bolstered operator cushion can be easily removed without tools for access to hydraulics
DRIVE SYSTEM
Type
Hydro drive with two variable displacement pumps and two cast-iron high-torque wheel motors for independent control of each drive wheel
Hydro Pumps
Two Hydro-Gear PG Series 10cc pumps with dump valves for movement without running engine; one cooling fan
Drive Wheel Motors
Two Parker TG 14.5 cu. inch cast-iron high torque wheel motors
Hydro Fluid Cooling Group
3.0 qt. capacity cooling reservoir; uses SAE 20W50 fluid and 10 micron filter
Steering/Travel Control
Twin lever steering control with individual control to each wheel
Dump Valves
Allows for movement without engine running
Axles
1.25″ heavy-duty, straight motor shafts
Wire Harness
14 and 16 gauge wire
Safety Group
Footplate-actuated operator presence system interlock to engine killFootplate-actuated operator presence system interlock to engine kill
Forward Speed Range
0 up to 7.0 mph
Reverse Speed Range
0 up to 3.0 mph
PRODUCT SPECIFICATION
Type
Plug-style aeration. Mid/under-belly mount.
Aerating Width
30″
Aerating Depth/Adjustment
1" to 4" in 1/2" increments. Simple and intuitive depth selection pin with easy-grip rubber knob.
Tines
48 self-cleaning, replaceable, steel coring tines
Tine Activation & Pressure
Hydraulic tine engagement (raise and lower) via a foot-activated switch. Tine activation switch on the instrument panel prevents accidental engagement/disengagement while working or transporting. Adjustable hydraulic down-pressure helps to penetrate even the hardest and driest soils to ensure effective aeration performance in all conditions.
| PRODUCT SPECIFICATION | AerStorm |
| --- | --- |
| LENGTH | 68.6″ |
| WIDTH | 49.8″ |
| HEIGHT | 51.2″ |
**Specifications subject to change without notice. Actual ground speeds may vary. Accessories subject to availability.