About SCAG Power Equipment in Australia
SCAG Australia has a dealership network of over 60 dealers Australia wide and is the largest importer of SCAG outside North America. SCAG has been imported to Australia for almost 30 years by International Mowers.
International Mowers was formed in 1988 and commenced with Scag as their national dealer in 1991, this has been a 28 year association which is growing in strength every year.
Today International Mowers is managed with the traditional philosophies that has grown the business since its inception in 1988.
A family owned and run company with traditional values and principles with a can-do and flexible attitude.
About SCAG Power Equipment
Scag Power Equipment, a division of Metalcraft of Mayville Inc., was founded in 1983. Originally, the Scag product was manufactured under contract with Metalcraft of Mayville in Mayville, Wisconsin. In 1986, Metalcraft purchased Scag Power Equipment, marking the beginning of a tremendous period of growth for the company.
From just one model, a gear-drive rider, to over 50 models today, Scag Power Equipment has become one of the largest independent manufacturers of commercial mowing equipment in the world. Scag Power Equipment's innovation and attention to quality is known and respected throughout the power equipment industry. Mowers and accessories are designed to be user friendly, with an emphasis on quality, performance, ease of maintenance, profitability and long life.
Being independently owned means our design decisions are not compromised by a large corporate office that also sells sprinklers, vacuum cleaners or "widgets". We are not forced to manufacture products that are just "good enough". The entire Scag Team can focus all of its resources on designing, manufacturing and assembling the finest commercial grade lawn mower money can buy (reference the "Why Buy a Scag" web page for more details). Every mower starts off as sheet steel or tube steel. We punch, press, bend, cut, weld, paint, assemble, package and ship our mowers, and we do it all in one of our three factories.
Scag makes Scag mowers, nobody else makes them for us and we do not make mowers for other companies. Scag mowers are assembled by highly trained individuals using the latest technologies such as pulse air torque guns. Mowers are run at the end of the assembly lines to ensure that the following items are up to specification: engine RPM is set, all safety switches are checked for proper operation, fluids are filled, systems are checked for leaks, and neutral and tracking adjustments are set using special dynamometers that apply load to the drive system. These steps add to the value of every Scag mower and ensure the product is the best it can be when it leaves our factory.
Browse Our Zero Turn Mower Range
What is the SCAG Difference?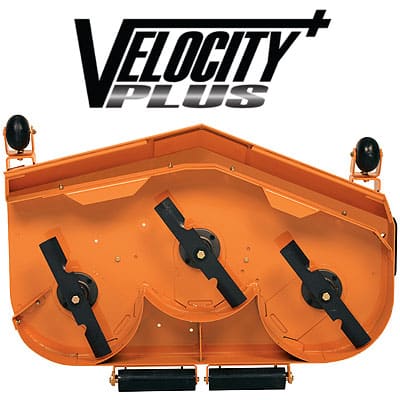 Velocity Plus™ Cutter Deck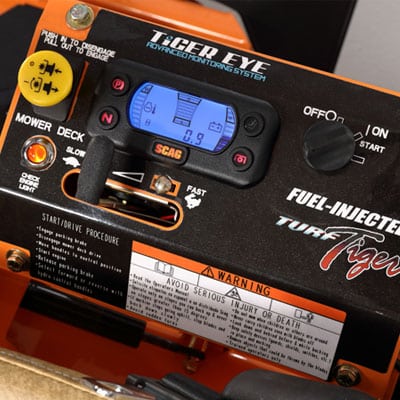 Advanced Monitoring System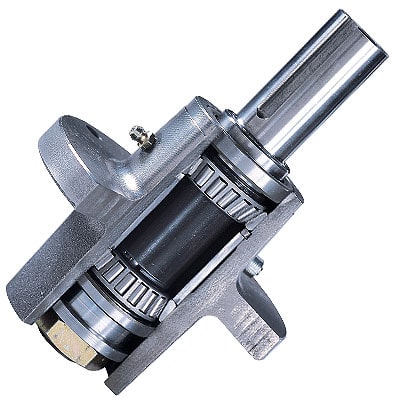 Cast-Iron Blade Drive Spindles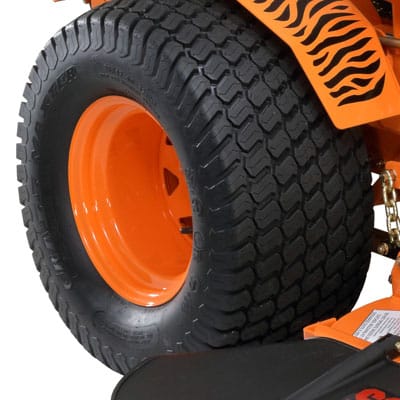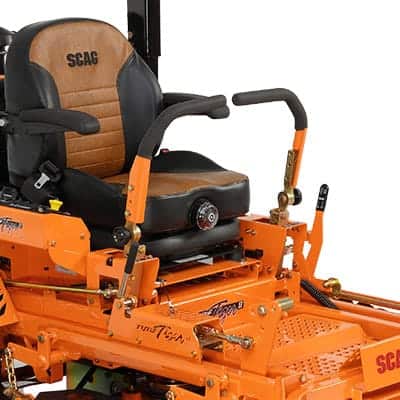 Operator Suspension System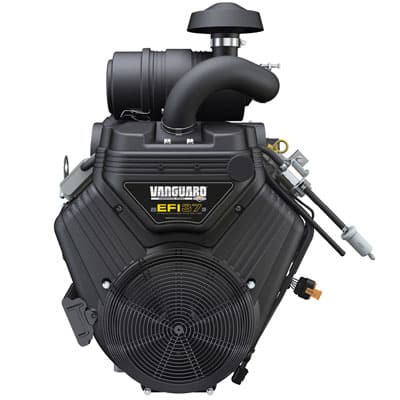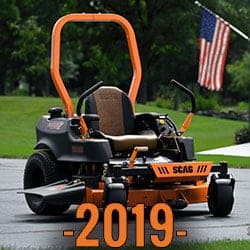 A NEW LOOK FOR SELECT SCAG MODELS
The Scag Patriot, Freedom Z and Liberty Z get a facelift as Scag adds some eyecatching showroom appeal to the lineup.
THE SCAG V-RIDE II IS BORN
The new V-Ride™ II's exceptional results, even greater stability and unmatched comfort leave no doubt: It's a whole new ballgame.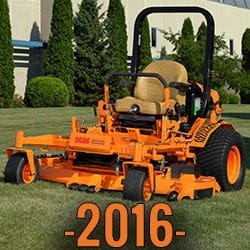 THE TURF TIGER II IS BORN
This industry benchmark has been re-engineered to be as easy on the operator as it is efficient on tough jobs in the field.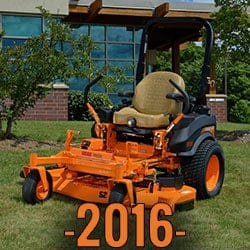 THE TIGER CAT II IS BORN
Re-engineered from the ground up, the all-new Tiger Cat II has set a new benchmark for mid-sized zero-turn riders.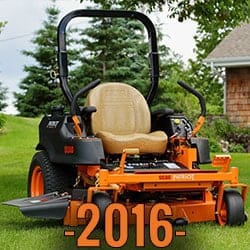 THE SCAG PATRIOT IS BORN
Delivering commercial-grade results at an incredible value, the Patriot is designed to exceed your expectations.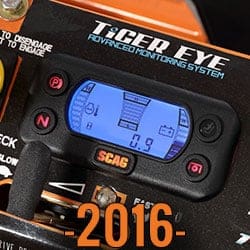 SCAG INTRODUCES THE TIGER EYE ADVANCED MONITORING SYSTEM
Tiger Eye Advanced Monitoring System keeps a constant, real-time "eye" on important system functions on select Scag models.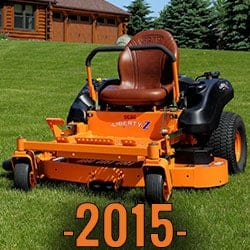 THE LIBERTY Z IS BORN
The first Scag mower designed and built exclusively for the quality minded home owner.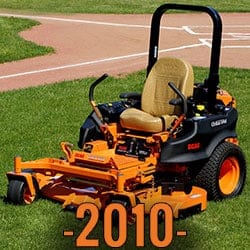 THE SCAG CHEETAH IS BORN
With a coil-over suspension system for the operator and speeds up to 16MPH, Scag once again shows the industry they are the leader.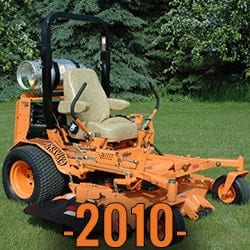 SCAG INTRODUCES PROPANE POWERED MOWERS
Tiger Eye Advanced Monitoring System keeps a constant, real-time "eye" on important system functions on select Scag models.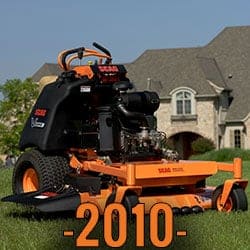 THE SCAG V-RIDE IS BORN
The V-Ride is a highly productive stand-on mower and is still in production today.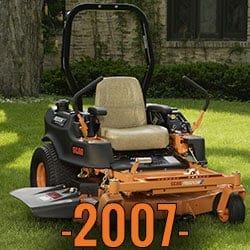 THE FREEDOM Z IS BORN
An entry-level commercial and large property mower, the Freedom Z offers Scag quality and performance at a lower price. The Freedom Z is still in production today.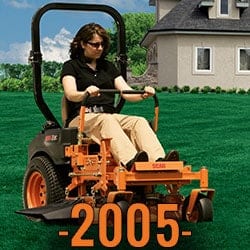 THE SCAG Z-CAT IS BORN
The Z-Cat was an ultra-compact, commercial-grade zero-turn riding mower.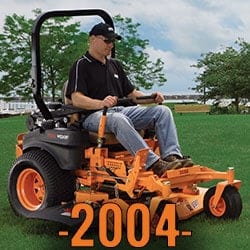 THE SCAG WILDCAT IS BORN
The Wildcat was yet another zero-turn rider with a compact stance and the ability to provide big productivity.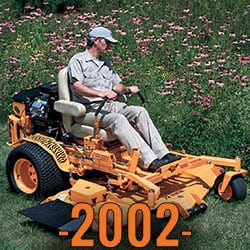 TURF TIGER REDESIGN
The Scag Turf Tiger, Tiger Cub and Sabre Tooth were redesigned for a lower center of gravity and many other enhancements to evolve the product line.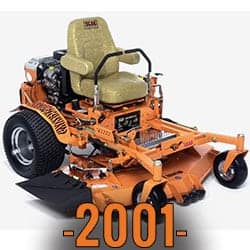 250,000TH SCAG MOWER BUILT
The quarter-millionth Scag mower was tricked out with chrome wheels and a custom seat and was donated to charity.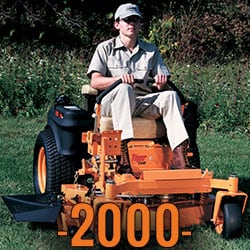 THE SCAG TIGER CUB IS BORN
This amazing zero-turn rider packed full-size performance into a compact package. The model is still in production today under the Tiger Cat name.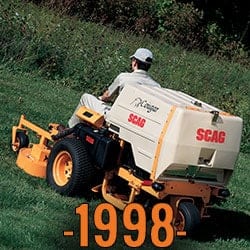 SCAG RELEASED THE COUGAR BAGGING MOWER AND THE SABRE TOOTH TIGER.
The Cougar compact bagger and the Sabre Tooth Tiger were both released in 1998.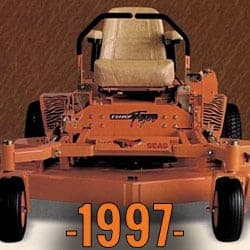 THE SCAG TURF TIGER IS BORN
Still the industry benchmark, the unmatched Turf Tiger continues to mow down the "competition."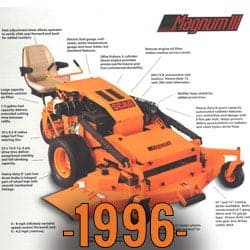 SCAG INTRODUCES THE MAGNUM III THREE-WHEELED RIDING MOWER
This was the first diesel-powered Scag mower.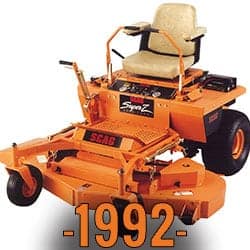 SCAG INTRODUCES THE SSZ ZERO-TURN RIDING MOWER
The Scag Super Z (SSZ) offered better handling, maneuverability and balance over the STZ, moving the zero-turn mower line forward.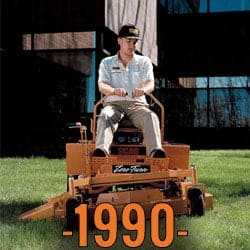 SCAG INTRODUCES THE STZ ZERO-TURN RIDING MOWER
This was the first zero-turn riding mower Scag released and offered tremendous productivity increases.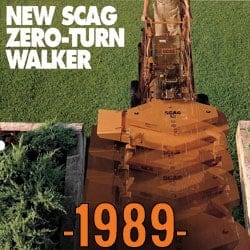 SCAG INTRODUCES THE INDUSTRY'S FIRST DUAL-PUMP, DUAL-MOTOR HYDRO WALK- BEHIND
Delivering up to 30% more productivity than a belt-driven walk-behind, the SWZ zero-turn mower design revolutionized the commercial mowing industry.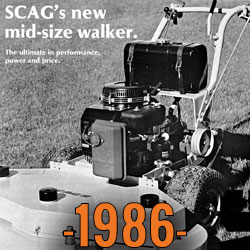 BELT-DRIVEN WALK-BEHIND MOWER INTRODUCED
Scag releases the SW belt-drive walk-behind, providing the commercial landscaper a more compact mower for tight spaces.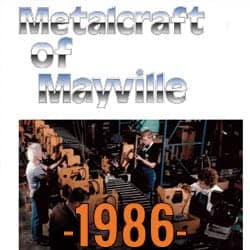 METALCRAFT OF MAYVILLE PURCHASED SCAG POWER EQUIPMENT
Scag becomes a division of Metalcraft of Mayville, the contract metal manufacturer that has been making Scag mowers from its inception in 1983.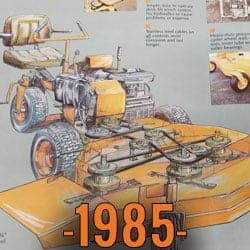 SCAG ENHANCED GEAR-DRIVEN THREE-WHEEL RIDING MOWERS
Making the three-wheel riding mowers more productive and comfortable.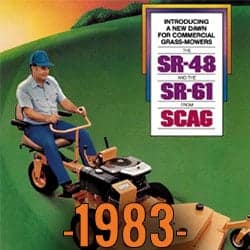 SCAG POWER EQUIPMENT IS ESTABLISHED
A new benchmark in commercial grade power equipment was created.
Find Your Nearest SCAG Mower Dealer